I woke up this morning in the soft morning light of early spring in Xuzhou, where Granny Han has her school.  The birds are singing their morning greetings, and pattering around on the air conditioner outside my window.  I appreciate their company.  Although the air has a nip that keeps me in bed with my feet under the covers, the morning sunlight coming in the window is revealing the shy presence of spring.  When there has been cold and dark, spring is so welcome.
Today's character pair is written Kan Tou in English.  The pronounciation is kahn tow.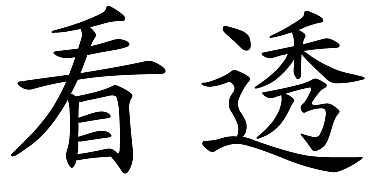 Kan is not just "seeing," but also means to look, watch, and is even used paired with "book" for the verb "to read."  There is more to seeing than just having open eyes.  The hand above the eye gives the clue.  Shading out the distraction, the eye is focused and watching carefully.
Tou is used in words that mean to reveal, or to see through.  Seeing through past the outside to the heart of something is so satisfying.  The character piece for movement on the left shows us seeing through.  On the right there is a stalk heavy with abundant grain.
Our whole family is buoyed this morning to have found out that all our many friends in Sendai, Japan are alive and unhurt.  We had been especially worried about one special family we had not heard from in a town even closer to the quake epicenter than Sendai.   Their emails were returned and phones unanswered.  But there was news this morning that they had been away on a family trip in Hawaii, and that they are all alive and well, now staying with their daughter in Tokyo.  While we mourn the great loss and tragedy in Japan, we also rejoice to know that many are still alive and well.
These few days I have been "seeing through" and filled with a deep sense of gratefulness for being alive on the earth, for the abundance of grain on the heavy head of the stalk.  Beyond that, I have deep gratefulness that there is also the opportunity to not just "see" things, but to "see through" to deeper side of life,  to practice and try to live out the precepts of compassion, kindness, understanding, generousity, forgiveness and perseverance.
Strength to you on your journey today.