Han Ru-feng, known to English speakers as "Granny Han," is the Principal of the Peng Cheng Special Education in a coal mining town in northern Jiangsu Province. When she discovered that no public special education school would take her grandson because his IQ was below the cut-off of 50, she retired and decided to educate him herself. So in 1989, this determined grandmother set up the Peng Cheng School that has become a model of compassionate education and therapy for developmentally-disabled children. She began with six children in a tiny one room shed in one of the poorest areas of town. She barely had enough money to rent a tiny unheated room, honestly – it was more like a cave, in the oldest section of town because her students were almost all from very poor families.
Finding a good school building was difficult
For more than 15 years Granny Han was forced to work in buildings that were on the verge of being condemned and have since been demolished. She had to move her school 10 times. But that did not stop her from creating a school where special needs boys and girls can achieve basic education and life skills, and benefit from medicine, food and love.
Finally, in 2004 a proper school was built
Her school was brought to the attention of members of the UNESCO office in Beijing, who supported her candidacy for foundation grants to build a permanent building for the school, which was completed in 2004. Finally, these special children, now numbering over 130, and their dedicated teachers, had a school which they could call home.
Hard work brings success
Many former students, including Granny Han's grandson, now have jobs and support themselves. Children who once could not talk or wash themselves are learning to read and attain skills for independent living. Granny Han's innovative teaching style and attention to the individual needs of each student have helped the children make great progress. Medicine created by senior doctors at the Jiangsu Chinese Medical University has also enhanced the children's development.
Granny Han and her team of dedicated teachers continue to transform the lives and futures of the special education children of Xuzhou. Their work has been honored by the Chinese government with both national and provincial awards. Their small school is at the leading edge of special education schools in China.
Training programs for sustainabliity
Because Peng Cheng is a private school, they are able to work with a variety of new training programs that the government schools cannot provide. Because they are providing leading edge training, they have the backing of the local government, which is important for their work.
Help for all
Granny Han continues to take in all children, regardless of their families financial situation. She receives support from generous foundations and individuals, but it is not easy to keep the school running.  Some of her students are orphans.  Some have no family income, and live on small government stipends.
The Promise of Neurofeedback –
One of the ways the school is developing so that they will have a sustainable base for income for the school is providing neurofeedback (brainwave training) for children in the autistic spectrum or with ADHD.  EEGer software, developed by EEG Software in the United States, is helping our students make incredible progress.  See the Neurofeedback tab on the menu bar for more details.
=====================================================================
Some of you asked to have the articles about the history of the school put here.  There are two entries that follow.
The first one is the article by Robin Lynam from the South China Morning Post that helped get more attention for the school's plight which was published in 2002.
The second article is the short letter I wrote everyone after the school opened in 2004.  Yes, it was a miracle, a school manifested from the love, care and compassion of many people.
=====================================================================
Learning to Smile (South China Morning Post Article from 11/2002)
By Robin Lynam
It is a cold, grey winter afternoon in Xuzhou, a remote soot encrusted coal town in Jiangsu Province. Twelve hours by train from Beijing, it is notable primarily for being the point at which two of China's major railway lines
intersect, and is not a place where the traveller lingers. Spend more than half an hour in what passes for fresh air here and your eyes begin to itch.
For any child Xuzhou would be far from ideal as a place to grow up. To be born here to parents who already live below the poverty line, as many do, makes matters considerably worse. To have been born with a severe mental handicap as well is a misfortune of all but unimaginable proportions.
Like most of the 45 pupils at Xuzhou's Peng Cheng Special Education School, 19 year old Han Hong Dian – his name means "Electric" because his father was in the electrical contracting business – loves to sing. He has a
fine voice, and a terrific memory for Mandarin lyrics, and the younger children like to listen to him.
Today Hong Dian has been asked to take a solo, and the refrain matches the strangely still atmosphere in the rudimentary, unheated classroom. It means "Peace be with you", and his schoolmates listen in enraptured silence. There is little here by way of special equipment – just benches, rough and ready desks an old fashioned chalk blackboard and a creaking harmonium on which a teacher accompanies the boy – but the sense of community while he sings is extraordinary. This is a place where hope has been born for families and
children who without it would have none. In a matter of weeks it could be closed.
In 1987 Han Hong Dian, then aged five, was assessed as having an IQ of 39.  He was accordingly refused a place in any of the city's five public special education schools, which, in common with their counterparts throughout China, only accept children with IQs of over 50.
The news came as a rude shock to his grandmother, Han Ru Fen, who had only recently retired as a teacher. Having determined that she would teach her grandson herself she also recognised that there must be many other children sharing his plight. Retirement was not suiting Mrs Han, who at 68 is still positively luminous with energy, and she immediately enrolled in a two year correspondence course to earn the extra qualification necessary to establish her own school for children with special needs.
The Peng Cheng Special Education School for Mentally Retarded Children opened in 1989 in a 15 square metre classroom rented with her own savings by "Granny" Han as she swiftly became known to her pupils. Hong Dian and four other children with an average IQ of 22.14 were the first to be enrolled, and using her considerable powers of persuasion Han succeeded in enlisting the support of two other retired teachers to help her conduct the classes.
"We borrowed the desks, chairs and blackboard, and I went round the neighbourhood committees to find out where handicapped children who couldn't get into the state schools were living," she remembers. "Then I had to
persuade the parents to give the school a try".
Visiting the families was also an education for Granny Han. Many of the parents of the most severely handicapped children turned out to be unemployed or without regular work – in some cases because they too were disabled.
"Some were laid off, some were mending shoes on street corners, and some of the children had to forage in garbage to find food. Many of our students are from very poor families and I realised that as well as educating the children we would have to be responsible for giving them proper nutrition," Han explains.
Word spread rapidly that not only would the school take handicapped children who previously had nowhere to go, but also that it was producing astonishing results. In many cases after a short period of patient, highly concentrated tuition, the IQs of students on whom the state system had given up without even starting were re-evaluated upwards. Some were able to transfer to public schools, others on graduating at 18, were able to find jobs. Granny Han was able to place some students as seamstresses in a rug factory, while others have become doormen, painters or manual labourers of one kind or another.
"They are willing to work hard, which means employers and their fellow workers like them, and work gives them dignity and a measure of independence. We prepare them for that," she says simply.
Mrs Han claims that she doesn't really know the secret of her success, but it isn't hard to identify a few contributing factors. One is the dedication of her teachers who, in common with their headmistress, certainly aren't in this for the money. The monthly wage is a mere 350 yuan and their work is repetitive and exhausting, but the satisfaction of seeing the children progress appears to make up for that. Equally important is the relatively small size of the classes, allowing the one on one attention essential to making that progress in seriously hard cases. Classes in the state special needs schools are much larger, with mentally and physically handicapped children often thrown indiscriminately together. For teachers in those institutions paying special attention to individuals in difficulty isn't even an option.
The beneficial impact of some other factors is harder to quantify. Every child is given a daily dose of Chinese herbal medicine, in either solid or liquid form. The prescriptions for these potions and pills, geared to
different levels of disability, were developed at Mrs Han's request by doctors at Nanjing University, and the preparations contain nutrients in which the children's diets at home may well be deficient. Two daily snacks
and a good lunch cooked by the school chef Chan Xining also help in that area.
"I really don't know whether the medicine directly benefits the children's brains or not," Mrs Han admits "but we do know that what those preparations contain are in a general sense good for them, and if a child is well
nourished, that in itself makes it easier to learn."
The school takes the same practical "if it ain't broke don't fix it" approach to the morning acupressure sessions in which the children use the techniques of another branch of traditional Chinese medical practice to stimulate their own brains. Each is taught where the pressure points are and how to stimulate them manually, while teachers also help with the aid of basic electrical massage equipment. Again how much this helps is uncertain,
but it clearly isn't hurting, and even if the acupressure itself is not effective the discipline helps to promote concentration.
A strong emphasis is laid on teaching the children to help each other, and it's touching to see one little girl – who like many of her classmates can't see well and may have had her learning ability underestimated for that
reason – helping to hold up a little boy who has difficulty in standing when his turn comes to sing.
Chen Lingqun, sixteen, is another visually handicapped student. She knows
what she wants to do when she graduates in two years time, which is to work
at the school, perhaps as a cook. During the meal breaks she is already
helping to feed classmates who need assistance. For all the grinding
poverty of their family lives and the crippling physical and mental
handicaps under which many of them labour, these are happy children and this
is a happy place.
Mrs Han's highest priority has always been children who other schools won't
take and whose families can't afford to pay Peng Cheng's very modest fees –
there are two terms per year and the all inclusive fee for each child is
just 395 yuan. A number of students however come from better off families,
and in some cases the parents have actually taken their children out of the
state system to try the smaller school's rather different approach.
Thirteen year old Liu Ruo, although not strictly speaking retarded, clearly
has a learning disability. He spent six years in a large class in a school
of more than 1000 pupils where he and his difficulties were simply ignored.
When his exasperated parents took him out of the school he was still unable
to read or write. They transferred him to Peng Cheng which in less than
two months has taught him basic literacy. Asked what he had learned in the
state school he replies simply "Nothing" and proudly shows off a book of
neatly copied characters. Like most of the children he has a broad smile on
his face.
Liu Ruo is one of the luckiest of Mrs Han's charges. At the other end of
the scale is fourteen year old Liu Lu, whose learning disability is probably
only slight, but goes along with a severe visual handicap. An unwanted
baby girl she was abandoned at birth in a pig sty, presumably in the hope
that the animals would finish her off. They didn't, and mercifully she was
found before dying of hunger or exposure. The couple who rescued her
adopted her.
That however was just the beginning. Her adoptive father is a lowly paid
casual labourer and his wife is unemployed. The school does not ask them to
pay fees, but the family can ill afford to feed and clothe her, and she was
recently asked if she could bear to go to an orphanage – a move that would
take her away from the school where she is making excellent progress. She
begged them not to make her go. Now Granny Han is looking into the
possibility of paying her a modest wage for doing some odd jobs for the
school so she can contribute to the family budget and continue her
education.
Although it is independently run the Peng Cheng School has never been
intended to make a profit. Around half the children have their fees paid by
their families, but Liu Lu and 22 others are paid for by charitable
contributions. The fees and donations just about cover expenses, although
Granny Han still often has to dip into her own savings to buy equipment and
for occasional exceptional expenses. This hand to mouth system of funding
means that the school's future is constantly in question.
Beijing resident and tireless supporter Elyn Macinnis has been helping to
raise funds for Peng Cheng since its foundation, and is seriously worried
about its future.
"She's like a ray of light in the middle of all this darkness," says
Macinnis, "There is so much love here, but it's a constant struggle just to
keep the school going. Granny Han has had to move six times in twelve
years, and she's going to have to move again in two months at the most. This
time I don't know if we can find another place the school can afford".
Peng Cheng's limited budget for premises has, from the beginning seen it
occupying buildings designated for redevelopment. As the pace of
construction picks up in Xuzhou it has become harder and harder to find
workable classroom space. The current premises are leased from the Jianguo
Xilu Primary School and are comprised of three strikingly spartan
classrooms, an office the size of a broom cupboard and a small kitchen.
There are no toilets. The children have to be taken outside the gate to a
public toilet, which is not cleaned as often as perhaps it might be.
Nevertheless the space is better than nothing, which is what the school may
have if – as she expects to be – Mrs Han and her charges are evicted in
December or early in the new year.
This will not be the case however if Doreen Huang has anything to do with
it. Huang is an administrative officer for the United Nations Educational,
Scientific and Cultural Organisation (UNESCO) and has established a number
of schools in remote areas of China under that organisation's auspices. Elyn
Macinnis has brought her to Xuzhou to meet Granny Han, and after a morning
assessing the operation she has a determined look about her.
"This can and must be saved," says Huang emphatically and, after a short
pause and a laugh, "All we need is the money. Unfortunately this does not
grow on trees."
Asked what her hopes are for the school, all Granny Han says, with a rare
trace of weariness is "Stability". Huang however has bigger ideas than just
ensuring that Peng Cheng's next move is its last. She wants to see the
school's achievements built on.
"What has been achieved here is astounding, and if Mrs Han and her school
are given the right facilities it will be possible to help many more
children. The school can also be a model for others to learn from in the
care and education of the mentally handicapped. With enough space it would
be possible immediately to take in around 100 children without losing the
family style relationships that have worked so well so far," she says.
Huang, like Granny Han, is not short on energy. By late morning she is
already in negotiations with the local education authority to let the school
have a plot of land adjacent to its present site where, after demolition of
some condemned buildings, a new school with proper amenities can be built.
Huang's proposal is for a modern facility with 10 classrooms, a health
clinic, and dormitories so boys and girls from outside the immediate area
can live in. She also wants to see ramps and elevators installed for
wheelchair access.
"We want to create a comfortable learning environment for these children.
Eventually with more teachers and nurses the school could take on up to 200
mentally retarded children from six counties and cities under the
jurisdiction of Xuzhou. There are at least 1000 children in the area who
could benefit from attending, and this would be the best possible start,"
she insists.
Huang's plan is for UNESCO to manage the project and to monitor the new
school, which would remain under Granny Han's leadership and control. The
organisation has funded the construction of a number of primary and middle
schools in poverty stricken areas of China, but the money has to be raised
separately for each project. This one Huang says is going to need about
1,500,000 yuan.
"It's a tall order, but this is such a clear case not only of a desperate
need but of a school which has proven that it can make a real difference in
the lives of children who otherwise are completely helpless. I'm hoping
people will respond to that. Any donations sent to our Beijing office marked
for the Peng Cheng school will go straight into this project. UNESCO does
not deduct administrative costs. I just hope we can get this built before
the school has to move out of its current classrooms. It's possible, but
time is awfully tight," she observes, quietly.
Nobody knows that better than Granny Han. At times the strain of the
situation seems to be telling on her, but there is no trace of it this
afternoon as a weak sun struggles to make its presence felt in the
schoolyard through a dense cloud of particulate pollution. The headmistress
is waving off the children at the end of the school day. Some are fetched by
parents, others are now sufficiently independent to make their own way home.
Seventeen year old Gao Feng, one of the latter, strides across the courtyard
with his head held high – in every sense of that expression. He was born
with a head too big for his body, and before Granny Han persuaded his
parents to let him attend the school he was unable to walk. Instead he
crawled across floors, pushing his cut and bruised face along the ground.
Gradually the headmistress taught him to readjust his posture and raise his
head. He now walks normally and in a year or two will be ready to leave the
school and take on some form of employment. Without Peng Cheng that would
have been an impossible dream.
Little Ji Zhenmin is a new boy, and at six and a half still needs to be
picked up from school by his father, now retired, who like several other
parents arrives by bicycle. The boy is his pride and joy – his first and
only son after raising two daughters, one of whom is now the family
breadwinner. As sometimes happens when a child is conceived late in the
parents' lives, Zhenmin has Down's Syndrome. Fortunately he is no less loved
for that at home, and Mr Ji is clearly overjoyed to have found a school
where his son is as cared for and important as any other child.
Her charges off the premises, Granny Han is off to see her daughter, also a
teacher and her designated successor at the school when one ultimately
becomes necessary. For the time being however Han is the school, and has no
intention of giving up the work that is also her passion.
So how long does she intend to keep working? Granny Han breaks into that
broad infectious smile she has managed to pass on to a whole school full of
children who you might think had little to smile about. "Until the end," she
says. It's five o'clock and the sun gives up an unequal struggle. The other
ray of light in this courtyard never will.
=====================================================================
Update on the Peng Cheng School and Granny Han's work
After the article on Granny Han's school was written for the South China Morning Post (see below), help began to pour in.  Members from our congregation began their monumental efforts to raise the funds and arrange for a school building for Granny Han's school.  Doreen Chin-Huang from UNESCO was the key person who found funds from generous donors to construct a school building, with help from Shen Xiao Hua and Zeng Zhen at UNESCO.  Local joint ventures in Xuzhou, especially Caterpillar, raised funds to get the school started. The Xuhou local government finally came up with land for the school building.  Clark Baurer, an architect in our congregation, accepted the job of providing architectural plans for the building, assisted by Karen Vickery.  In August of this year (2004) the building was completed, and the opening ceremony was held on September 8.
Although clouds covered the sun for the opening ceremony, everyone and everything else was shining.  Building the school building had not been easy.  Twenty five local families had to be re-located, and for the first few months it poured rain, making it impossible to begin construction.  But in the end difficulties were overcome, and on the site of a condemned former public school building, rising up like a shining sun itself, was the new Peng Cheng School.
We had toured the school earlier in the day, and got to see their new classrooms and even their new "store," where children can practice "buying" pencils, small stuffed animals, or a styrofoam bowl of noodles.  The lunchroom was clean and tidy, and the library was full of books and had two computers.  Each classroom had been painted a different color thanks to Nippon Paint company and its affiliate Rohm & Haas.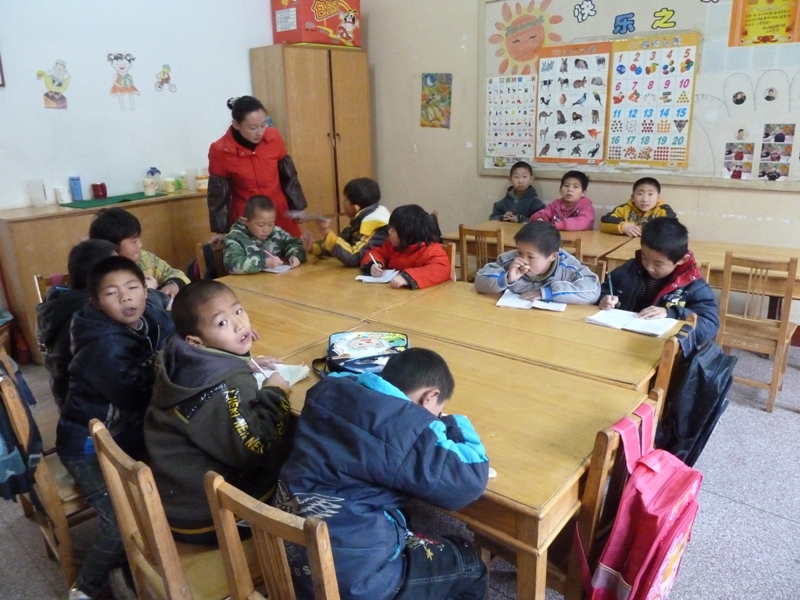 The opening began with children from another local public school who came with their instruments and loudly played a selection of band music, including Bach's "Joyful, Joyful, We Adore Thee" in order to set the right happy and noisy celebratory feeling.   There were the usual ceremonial formalities, like signing the guest book and having a small boutonniere pinned on with a red ribbon declaring "Respected Guest" printed in gold.  Red banners hung from all corners and UNESCO's blue flag covered one side of the building to make a "stage" for the ceremony.  Presents donated from various companies lined tables set up on the side, and a history of the school and its accomplishments lined the back of the small playground.   Commemorative calligraphy and inscriptions from "important people" had been framed and were leaning against the head table at the front of the stage, including one from the head of the National Woman's Federation and one of China's finest painters, a native of Xuzhou.  A representative from the Central Government was present, adding a level of importance to the celebration, and the Vice Mayor in charge of education was there as well.
There were many speeches of congratulations and tributes to Han Laoshi, who sat on one side of the "Distinguished Guests Table" in the front.  One of the parents gave a very moving speech, expressing his deepest thanks to Han Laoshi for providing a place for his child to study.  The girls came out and danced to a song about frogs, and the boys did a dance to a song about crabs – but the last song was the best, one written by the music teacher especially for the occasion and sung by the children of the school, to express the school's thanks to everyone who had made the school building possible.
So, Granny Han will never have to move again.  The next challenge?
To make it the finest Special Ed school in China.  There are still many challenges to overcome, but now, at least, there is a building where it can happen.  Hopefully, the school will become a training school for teachers from public schools in East China to come where they can learn new skills and share their ideas.
Granny Han sends her deepest thanks to the congregation and everyone who has helped over the years.  Thank you for sharing your love!