Today's reflection is on the character "Xin" – pronounced "shin"
You are now part of the Character Reflections subscribers list.  It's nice to be in touch.  If you are interested in knowing more about the structure and arcitecture of Chinese characters, you can find more information at www.characterreflections.com.  If you are interested in the book Character Reflections, you can also find it there.
I have sent out Character Reflections during Lent since the year 2000.  (I can hardly believe time has gone by so quickly!)  This is the twelfth year, and I hope it will be the best yet.
Today we will start with something simple,  the character that means a letter, a message, and also to trust, to believe, faith, and truthful when it is part of a character combination.  It's pronounced "shin," and is spelled Xin.  It is in the header of this message.  You may need to click on the "display pictures" link to see it in your letter.
In Russia, there is a saying – "Each day is a messenger from God."  As I have studied Chinese characters, I have discovered that, although it isn't true of every character in the language, many of them are "a messenger from God," and help lift our spiritual awareness and awaken us to divine things of the heart.  I have enjoyed finding them for you, and I hope you enjoy learning about them.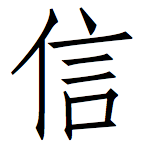 The Structure of the Character:
Left side:  A person
Right side: A spoken word – see the vapors coming out of the character's mouth?
The character part that represents a person on the left is coming as a messenger, bringing "the word of truth" to you on the right.
If the message has to do with trust, belief, and truth, it is a divine message for us, and it is pictured beautifully in this Chinese character, Xin.
Reflection
We can get so involved in our everyday activities that we can miss seeing many amazing things.  Some days I go to a café near our house to have lunch with my husband.  If I am late, and I often am, I walk so fast that I miss many wonderful sights.  The fishermen who fish in the canal that runs by our apartment building can look just like a fisherman.  But looking again I can see their quiet stillness, a message to stop and smell the roses (not the fish!) so to speak.
There are willows along the canal, just trees, but if you look with eyes watching for the message you can see the truth their growing buds proclaim of the coming spring and natural divine beauty.  If you are walking too quickly, the playground sounds are just noise, but if you look with spiritual eyes for the message, there are the dear little dumpling shaped babies on the playground, the bright future of the earth, running around chasing each other in glee in the sunshine.  The divine messages we can receive about these things  –
Stillness
Stopping to look with a quiet heart
The incredible divine beauty in the plants, bushes and trees
and the joy we can find in children
will only be a "message" for us if we let it in.